In order to work effectively with coworkers and clients, you need to understand their viewpoint. Over the last few years, I have discovered that a person's approach to rules such as processes or standards is an important element in understanding and predicting how they will operate in the workplace. One reason this is a useful measure is that there is a wide variation across the population: from the rule makers who believe strongly in the rules to the rule breakers who cannot stand following them.
I have identified three broad categories to represent this spectrum of approaches to working with rules.
Bureaucratic: You feel that rules are necessary to get things done. You want a rule for every situation - documented of course. You are uncomfortable when there are no rules. You are shocked when someone breaks the rules, and do not agree with their justification, whatever it is. You are the rule maker.
Chaotic: You feel that rules are unnecessary or worse are obstacles to getting the job done. You are uncomfortable with lots of rules. You tend to ignore the rules. You think the rules do not apply to you or your situation. You are the rule breaker.
Pragmatic: You feel rules are important, but should not be followed blindly when doing so would interfere with getting the job done. You are more likely to follow the spirit of a rule rather than follow it to the letter. You prefer guidelines to rules.
The pragmatic approach lies in the middle between chaotic and bureaucratic.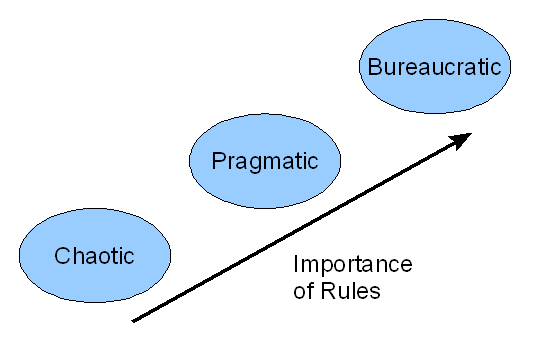 I find that understanding how my coworkers or clients approach rules compared to myself helps me to deal more effectively with those that differ from my viewpoint. I classify myself as a pragmatic, leaning slightly towards the bureaucratic. I work easily with other pragmatics: when our viewpoints do differ concerning particular rules, such as the amount of process to employ, we can debate the merits of our viewpoints and come to a common understanding. When dealing with bureaucrats, they often ask for specific rules or standards which I tend to avoid as being overly constraining or simplistic. My tendency as a pragmatic is to instead offer guidelines, which only frustrates them. So I am learning to provide those types of individuals with more concrete instructions to keep them happy. I have dealt less often with truly chaotic individuals - most are at least somewhat pragmatic. For those that complain about following processes, I talk about the underlying purpose of the rule and the expected benefits of complying. I have not found a satisfactory answer, however, for those that simply refuse to follow process.
The corporate culture of a team or organization can also be classified according to its approach to rules. This environment will tend to attract people with the same tendencies, who will in turn reinforce that culture. So government jobs, usually a rule-heavy environment, are often filled by bureaucrats, while small companies and start-ups with few rules often attract chaotic individuals such as the stereotypical cowboy coder. In fact, I believe this classification can help explain why organizations tend to become more bureaucratic and less adaptable as they grow in size. As a small company grows, it slowly requires more organization and rules in order to function, such as more layers of management, and more formal budgeting. As the rules increase, the original chaotic individuals become less comfortable, and tend to leave for new start-ups or smaller companies. The company becomes more attractive for bureaucrats, who tend to increase the number of rules, especially if they are in senior positions. Unchecked and given sufficient time and growth, this trend can turn a formerly small, rules-light company into a bureaucratic large company.
As a pragmatic, I believe that all rules should have a purpose for existing - benefits to the organization or team that outweigh the cost of complying. If in a particular situation following a rule would not realize those benefits or would cause harm, then I believe it should not be followed. How do you view rules? Are you a rule maker or a rule breaker?
If you find this article helpful, please make a donation.